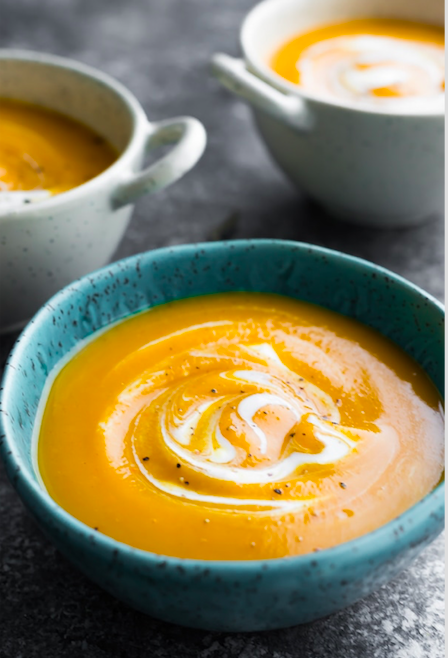 I love cooking soups in the fall and winter for two reasons – the colder weather makes me crave warm food and they are the ultimate one pot meal!
It is also very easy to make healthy swaps with soup (swapping cream for light coconut milk or even a blended potato or cauliflower)!
Here are 3 soup recipes I have rounded up to try this fall.
1. Creamy Butternut Squash Soup
Ingredients:
1 tablespoon olive oil
1 onion (peeled and chopped)
1 teaspoon dried sage leaves (or 1/2 teaspoon ground sage)
2 carrots peeled and sliced
6 cups butternut squash cubes (peeled, seeds scooped out and cut into 3/4 inch cubes)
2 1/2 cups chicken or vegetable stock
2 tablespoons maple syrup (optional)
1 teaspoon salt
1 cup milk of choice (dairy, almond milk, coconut milk all work)
Instructions
In a medium-sized pot, heat the olive oil over medium heat.
Add the onion and sauté for 5-7 minutes, until cooked through.
Add the sage and cook for another 1 minute or so, until you can smell it.
Add the carrots, squash, stock, maple syrup and salt. Bring to a boil, reduce heat and simmer for 15 minutes, or until carrots and squash are tender.
Add the cup of milk and blend with an immersion blender until smooth and creamy (1-2 minutes). Alternatively, you could transfer to a stand blender and blend until smooth.
Nutrition Facts:
Calories: 178 calories
Protein: 5 grams
Carbohydrates: 30 grams
Fat: 5 grams
Recipe and picture from Sweat Pea and Saffron
2. Detox Chicken Soup
Ingredients:
2 tablespoons olive oil, divided
1 pound boneless, skinless chicken breasts, cut into 1-inch chunks
Salt and freshly ground black pepper
1 onion, diced
2 carrots, peeled and diced
2 celery ribs, diced
4 cloves garlic, minced
16 ounces cremini mushrooms, thinly sliced
1/2 teaspoon dried thyme
1/2 teaspoon dried oregano
8 cups chicken stock
2 bay leaves
1/2 cup uncooked orzo pasta
1 sprig rosemary
1 bunch kale, stems removed and leaves chopped
1 (15-ounce) can cannellini beans, drained and rinsed
Juice of 1 lemon
2 tablespoons chopped fresh parsley leaves
Directions:
Heat 1 tablespoon olive oil in a large stockpot or Dutch oven over medium heat. Season chicken with salt and pepper, to taste. Add chicken to the stockpot and cook until golden, about 2-3 minutes; set aside.
Add remaining 1 tablespoon oil to the stockpot. Add onion, carrots and celery. Cook, stirring occasionally, until tender, about 3-4 minutes.
Add garlic and mushrooms, and cook, stirring occasionally, until tender and browned, about 5-6 minutes. Stir in thyme and oregano until fragrant, about 1 minute.
Whisk in chicken stock and bay leaves; bring to a boil. Stir in orzo, rosemary and chicken; reduce heat and simmer until orzo is tender, about 10-12 minutes.
Stir in kale and cannellini beans until the kale has wilted, about 3-4 minutes. Stir in lemon juice and parsley; season with salt and pepper, to taste. Makes 12 servings.
Nutritional Facts:
Calories: 203.5 calories
Protein: 15.5 grams
Carbohydrates: 25 grams
Fat: 3.5 grams
Recipe and picture from Damn Delicious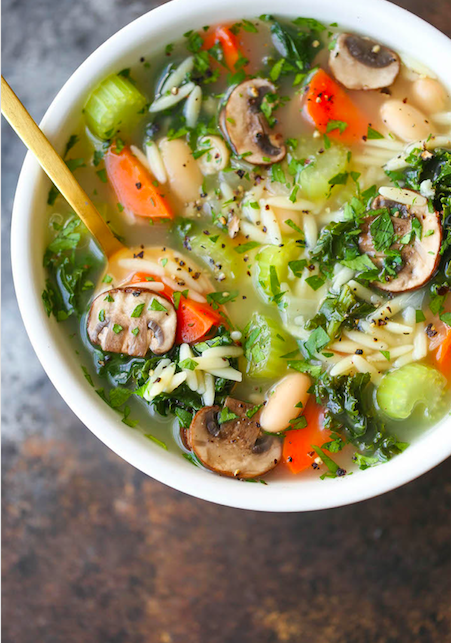 3. Turkey Chili Taco Soup
Ingredients:
Cooking spray
1.3 lbs 99% lean ground turkey
1 medium onion, chopped
1 bell pepper, chopped
10 oz can tomatoes with green chilies
15 oz canned or frozen corn, drained
15 oz no salt added kidney beans, drained
8 oz tomato sauce
16 oz refried beans
1 packet low-sodium taco seasoning, or use homemade
2 1/2 cups less-sodium chicken broth
Directions:
Spray a large pot with cooking spray then brown the turkey over medium heat, breaking up with a wooden spoon as it cooks. When cooked through, add the onions and pepper and cook 2-3 minutes.
Add tomatoes, corn, beans, tomato sauce, re-fried beans, taco seasoning and chicken broth. Bring to a boil, cover and simmer about 10-15 minutes.
Serve with your favorite toppings such as low fat sour cream, jalapeños, reduced fat cheese, chopped scallions, onions, or chopped fresh cilantro.
Freeze leftovers in individual portions for future meal. Makes 11 servings.
Nutritional Facts:
Calories: 225 calories
Protein: 22 grams
Carbohydrates: 31.5 grams
Fat: 2 grams
Recipe and picture from Skinny Taste