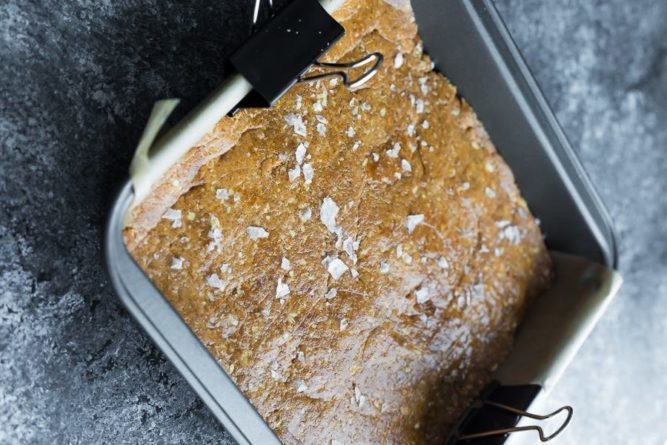 We have been in an state of self isolation now for a few weeks. Many of us have put some effort into creating new schedules and routines. We may not need to meal prep a week's worth of food for your whole family right now, but we all have some extra time on our hands at home. Let's use this time wisely to make some freezer friendly meals that you can pull out for lunches and dinners when life goes back to being more hectic!
Chicken Fajita Casserole
Ingredients
1 tablespoon avocado oil
1 1/2 pounds chicken breast sliced into thin strips
2 tablespoons taco seasoning (divided)
1 medium onion, sliced (3 cups/305 grams)
3 medium bell peppers, sliced (5 heaping cups/625 grams)
1 1/2 cups Brown Rice
8 medium mushrooms, sliced
1 can (14.5 ounces) roasted tomatoes
1 can (8 ounces) diced hatch green chiles
1 3/4 cups broth
1/2-1 cup shredded cheddar cheese
salt and pepper, to taste
Optional toppings: avocado, cilantro, lime juice, greek yogurt/sour cream, hot sauce

Directions:
Preheat oven to 375 degrees Fahrenheit.
In a large skillet (I used 12 inches) over medium heat, add oil and let it get hot, about 1 minute. Add chicken, 1 tablespoon taco seasoning, and salt and pepper and sauté for 2-3 minutes until browned (chicken does not have to be cooked all the way through). Remove from pan and set aside.
Add onions, salt and pepper, and sauté for 2-3 minutes until slightly softened. Add a splash of broth (you can use some from the amount you measured out) if you need to deglaze the pan and speed up the cooking process some. Add peppers and remaining taco seasoning and sauté for another 2-3 minutes.
Add rice and mix well to combine and let toast for 1-2 minutes. Add in the cooked chicken, fire roasted tomatoes, green chiles, and mushrooms and mix well to combine. Add broth and carefully stir to make sure it is well incorporated. You want to make sure you have enough liquid so you can see a little on the top, but not completely covering everything. Not enough liquid and you will be left with uncooked rice. Too much and it will be too soggy and won't absorb. See pictures above for reference.
Cover with tin foil and bake for 45 minutes. Remove the foil and bake for another 5-10 minutes until all the liquid is absorbed. Remove from oven, sprinkle with cheese, and bake for another 1-2 minutes until cheese is melted. Top with optional toppings or topping of choice and enjoy!

Calories: 264 calories (per 1 cup serving – based on 1 cup of cheese)
Fat: 7 grams
Protein: 21 grams
Carbs: 29 grams

Recipe from Eat the Gains
Cinnamon Roll Protein Bars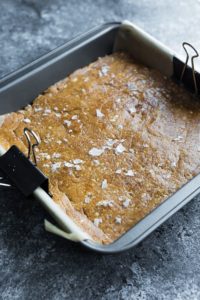 Ingredients
1 scoop vanilla protein powder (40 g; a heaping 1/2 cup)
1 teaspoon cinnamon
1 cup rolled oats (96 g)
2 tablespoons coconut oil (26 g)
1/2 cup natural almond butter (118 g)
1/4 cup honey (74 g)
1/2 teaspoon vanilla extract
1 tablespoon water *if needed
sea salt for sprinkling
Directions:
Combine the protein powder, cinnamon and rolled oats in a 7 cup food processor fitted with a steel blade. Blend until the oats are powdery and blended.
In a microwave safe bowl, melt the coconut oil. Pour into the food processor.
Add the almond butter, honey and vanilla extract (I like weighing it in the food processor to save on dishes)
Process until it clumps and forms a ball in the fist of your hand.
If mixture feels dry, add 1 tablespoon of water and process again.
Line a loaf pan with parchment paper. Scoop the protein bar mixture into the pan and press firmly with a spatula.
Sprinkle with flaky sea salt.
Freeze for a minimum of 30 minutes before slicing into bars.
Keep bars in the fridge as they become soft at room temperature.
Calories: 212 (1/8th of pan)
Carbohydrates: 20g
Protein: 7g
Fat: 13g
Recipe from Sweet Pea & Saffron
10 Spice Veggie Soup

Ingredients (for the soup):
3/4 cup raw cashews, soaked
6 cups (1.5L) vegetable broth, divided
1 tablespoon (15 mL) extra-virgin olive oil
3 large garlic cloves, minced
2 cups diced sweet onion (about 1 medium)
1 heaping cup peeled and chopped carrots (about 3 medium)
1 red bell pepper or 1 cup jarred roasted red pepper, chopped
1 1/2 cups peeled and chopped sweet potato, regular potato, or butternut squash
1 heaping cup chopped celery (about 2 stalks)
1 (28-ounce/796 mL) can diced tomatoes, with their juices
1 to 2 tablespoons Homemade 10-Spice Mix, to taste
Fine-grain sea salt and freshly ground black pepper, to taste
2 to 3 cups baby spinach or de-stemmed torn kale leaves
1 (14-ounce/398 mL) can chickpeas or other beans, drained and rinsed
Homemade 10-Spice Mix (makes 1/2 cup):
2 tablespoons smoked paprika
1 tablespoon garlic powder
1 tablespoon dried oregano
1 tablespoon onion powder
1 tablespoon dried basil
2 teaspoons dried thyme
1 1/2 teaspoons freshly ground black pepper
1 1/2 teaspoons fine grain sea salt
1 teaspoon white pepper (optional)
1 teaspoon cayenne pepper
Directions:
Place cashews in a bowl and add enough water to cover. Soak the cashews overnight, or for 8 hours. For a quick-soak method, soak the cashews in boiled water for 30 to 60 minutes. Drain and rinse the cashews.
In a blender, combine the soaked and drained cashews with 1 cup of vegetable broth and blend on the highest speed until smooth. Set aside.
In a large pot, heat the oil over medium heat. Add the garlic and onion and sauté for 3 to 5 minutes, or until the onion is translucent. Season generously with Herbamare or sea salt.
Add the carrots, bell pepper, potato, celery, and diced tomatoes with their juices, the remaining 5 cups broth, and 1 to 2 tablespoons 10-Spice Mix (to taste). Stir well to combine . Bring the mixture to a boil and then reduce the heat to medium-low. Season with salt and black pepper.
Simmer the soup uncovered for at least 20 minutes, stirring occasionally, until the vegetables are tender. Season with salt and black pepper. During the last 5 minutes of cooking, stir in the cashew cream, spinach (or kale), and drained beans. Add more 10-Spice Mix, to taste.
To freeze, ladle the soup into containers (leaving 1 inch for expansion), cool completely, secure lid, and place in the freezer for up to 6 weeks.
Calories: 170 calories (1 cup serving)
Fat: 6 grams
Carbs: 23 grams
Protein: 5 grams
Recipe from Oh She Glows