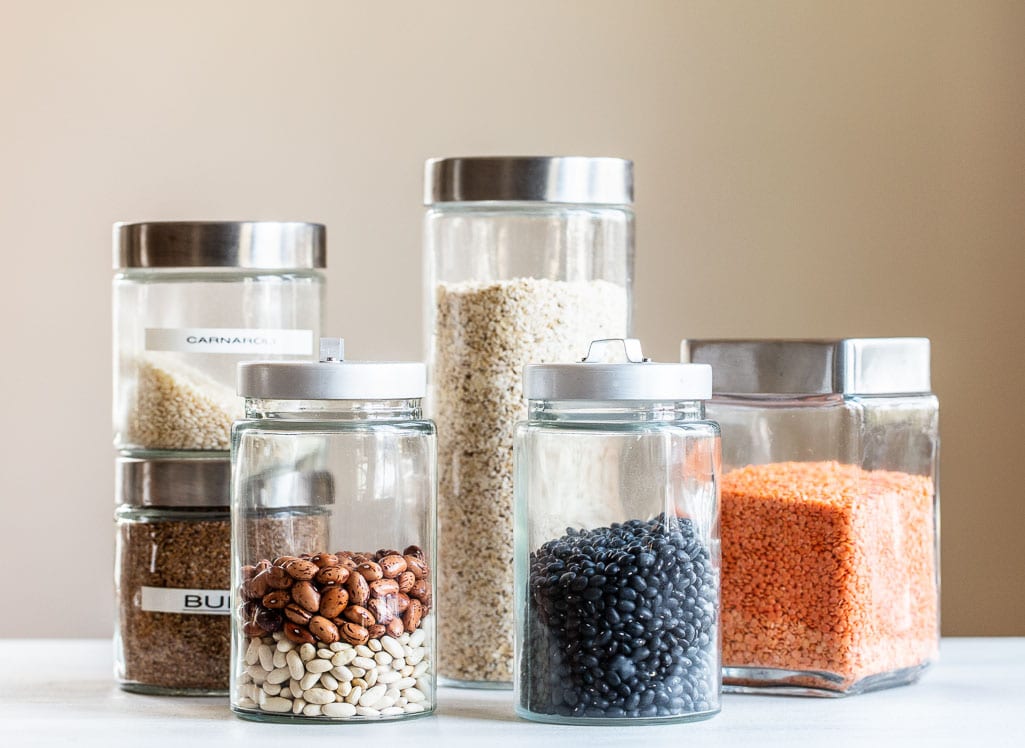 Every kitchen pantry should be stocked with a few basic dry goods, especially if you live a busy lifestyle and have to cook with what you've got a lot of the time. Most of us don't have the luxury of the time it takes to grocery shop before every meal, so thank god for beans and pasta!
Here are a few dry ingredients we make sure to keep on hand at all times, and some ideas for how to use them.
Quinoa or bulgur wheat are great bases for buddha bowls, taco "meat," burger patties, salad grains, and of course tabbouleh.
If you're a fan of Indian cooking, lentils and chickpeas are a must, but don't forget to soak dry chickpeas overnight or else they'll never cook! Tip: if you don't mind the extra step, buying chickpeas dry is extremely budget-friendly. You can make hearty meals for just a few cents per serving! Chickpeas can also be made into the perfect salad protein: just toss with lemon juice, salt and pepper, and optional tahini and spices. And how could we forget homemade hummus? Chickpeas, tahini, lemon juice, olive oil, garlic, and another hot (or cold) tip is to add ice cubes just before fully blended. It gives the hummus an extra silky texture.
Dry pasta may be an obvious one, but the availability of tons of different pasta shapes means you can get creative with dinner in a short amount of time. Think lemon orzo pasta salad, bow ties with homemade pesto, or a quick weeknight spaghetti with tomato sauce! Here's a tip we got from a friend of ours who is a professional chef: hemp hearts make an excellent (and much cheaper) substitute for pine nuts in pesto! And if you really want to maximize on a simple meal, look for high protein pasta at a health food store or higher end grocery store.
Even if you've never been a fan of traditional oatmeal or don't bake too often, oats are such a versatile ingredient to have. You can make baked or overnights oats for a breakfast treat, blend oats to make oat flour, DIY some granola bars, or add some to a smoothie to balance it out.
Nuts are a great healthy snack option, but have you ever thought to make a sauce from them? One of our favourite plant-based dishes is a creamy cashew-based fettucine alfredo! A high-powered blender is key to make this fibre and protein rich sauce full of healthy fats.
Of course there's tons more great dry ingredient options we could list off, but these are just a few of our most reached for!