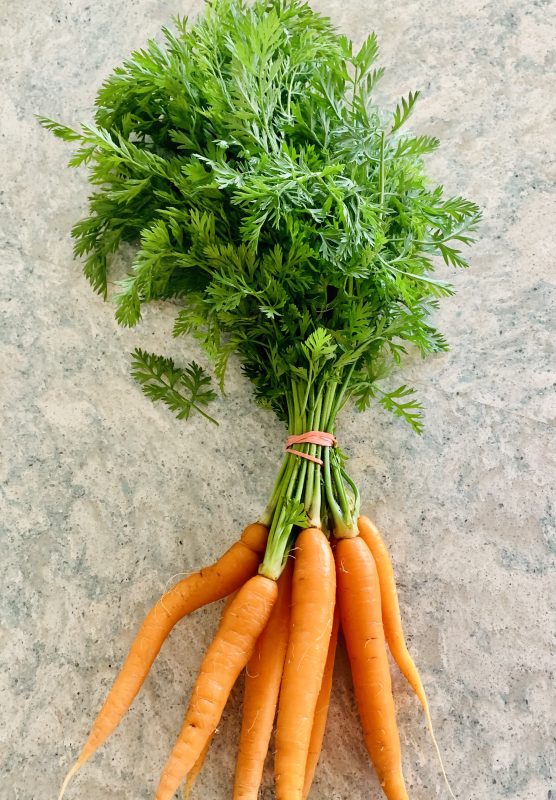 With many municipalities requiring that kitchen scraps be placed in a separate bag to compost, it's good to know that the odd tops, ends, and stems of veggies that we tend to discard aren't being thrown into landfills along with our garbage. There is, however, one way we can go a step further at home and reuse carrot tops in our food, as they are 100% edible!
In fact, there are many uses for the green part of carrots, and some of them may surprise you. But let's take a look at the nutrition value of carrots tops before we get into the recipes!
Benefits of carrot top greens
Carrot leaves have high content of vitamin C which is six times more than in roots.
Carrot leaves have high content of potassium assisting regulation of blood pressure.
Carrot leaves have high content of macronutrients such as magnesium that helps to prevent inflammation by reinforcing the muscle tissues in the body.
Carrot leaves contains Vitamin K which is crucial for blood clotting and bone density. Combined with magnesium and calcium, Vitamin K enhances bone health and its strength by lowering the chances of bone and joint problems such as osteoporosis.
Carrot top recipes
Pesto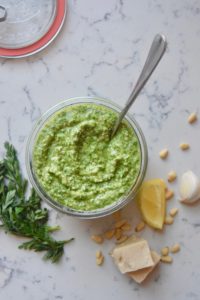 Ingredients:
1 cup (packed, about 40 g) carrot top greens, tough stems removed
1 cup (packed, about 40 g) baby spinach
1 large clove garlic, roughly chopped
1/2 cup (63 g) roasted unsalted cashews
1/2 teaspoon sea salt
1/4 teaspoon black pepper
1/2 cup (118 ml) extra virgin olive oil
Instructions:
Rinse the carrot top greens to dislodge any dirt. Pick out and discard any dry, yellowed, or otherwise unappetizing looking leaves. Discard tough stems.
Pulse greens, garlic, cashews, salt, pepper in a food processor: Place the carrot tops greens, baby spinach, chopped garlic, roasted cashews, salt, and pepper in a food processor. Pulse several times. Scrape the sides down with a rubber spatula.
Slowly add the olive oil: While the food processor is running, slowly pour in the olive oil in a steady stream. Scrape the sides down with a rubber spatula. Pulse until smooth.
Sautéed Carrot Greens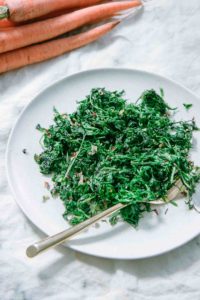 Ingredients:
4 cups carrot greens
4 garlic cloves, minced
3 tablespoons olive oil
Pinch of red pepper flakes, to taste
Pinch of salt
Instructions:
First cut carrot greens from the carrot root, then cut the stiff stems right under where the greens start to grow. Fill a large mixing bowl with cold water and submerge carrot stems for a few minutes, stirring or moving the leaves around with your hands to make sure as much dirt is removed as possible. Next, remove the leaves from the water and use a salad spinner to remove water and put into a bowl or lay flat to dry (about 15 minutes).
Remove carrot green stems and chop garlic: When greens are dry, remove stiff stems and finely chop the garlic cloves.
To a medium pan heat olive oil over medium-low heat. Add minced garlic and cook until it begins to brown and become fragrant, about 1-2 minutes. Next add the red pepper and cook about 20-30 seconds more, or until the pepper begins to release its color into the oil (do not overcook or the pepper will burn). Then add the carrot greens and stir constantly until they are covered in oil and completely wilted and cooked down, about 2-3 minutes. Remove to a plate and serve immediately.
Carrot Top Chimichurri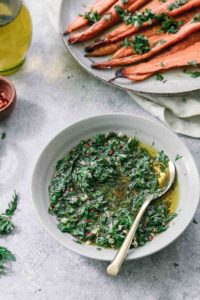 Ingredients:
1 cup carrot tops, finely chopped
3-4 cloves garlic, finely chopped
1 teaspoon crushed red pepper
3/4 teaspoon dried oregano
1/2 cup olive oil
2 tablespoons red wine vinegar
1 teaspoon sea salt
½ teaspoon black pepper to taste
Optional: cumin, paprika, or lemon juice to taste
Instructions:In a medium mixing bowl, combine the chopped carrot tops, dried oregano, chopped garlic, crushed red pepper, olive oil, and red wine vinegar.
Slowly add the salt and pepper, stopping to taste test to ensure it's not oversalted. Mix well to combine all ingredients.
Let the chimichurri rest for a minimum of 10 minutes before serving, but for best results make the carrot top chimichurri 30 minutes ahead of serving so the flavors have time to reach their full potential.
Serve on top of roasted vegetables, plant-based burgers or sausages, mix into soups and stews, or as a dipping sauce for bread or raw veggies. Chimichurri can also be used as a marinade for vegetables.
Carrot Tops Veggie Broth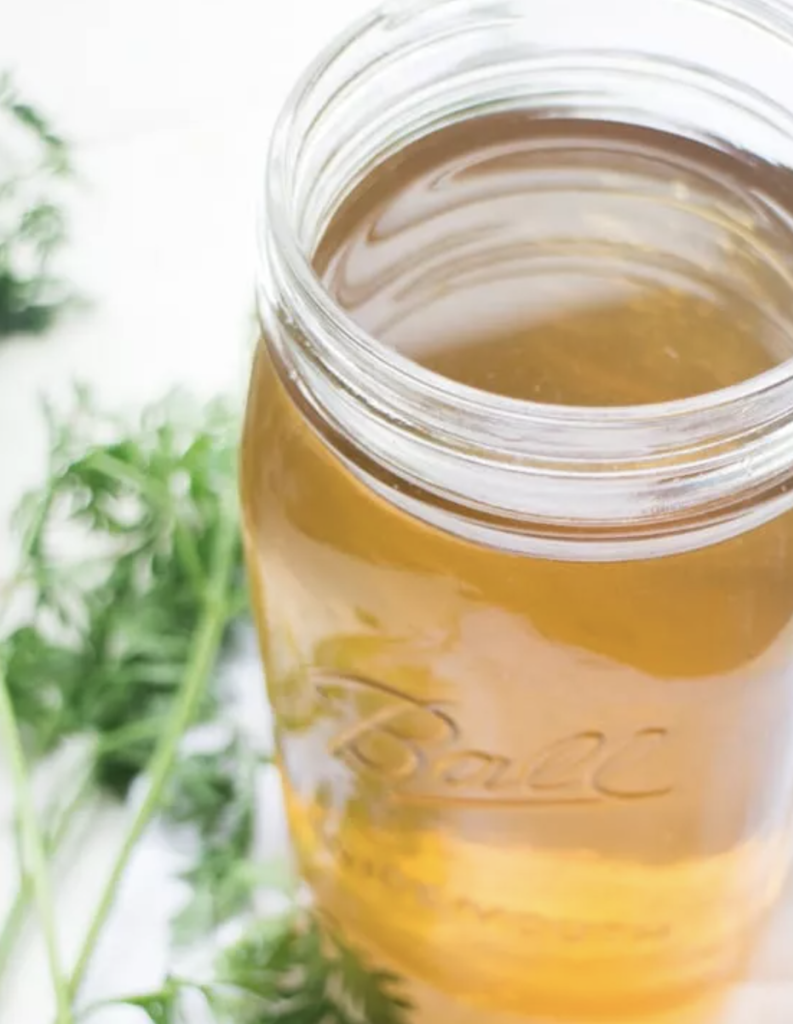 Ingredients:
8 cups water
8 ounces carrot tops cleaned
1 teaspoon salt
2 bay leaves
Instructions:
Add water, carrot tops, salt and bay leaves to a large pot. Bring to a boil.
Once boiling, cover with a lid and turn to low. Simmer for 1 hour.
Pour the broth through a colander, catching the liquid broth in a bowl below. Discard (or compost) the carrot tops.
You can use the vegetable broth immediately or freeze for later use. This broth is great in any recipe that calls for vegetable broth!
Sources: https://brooklynfarmgirl.com/carrot-tops-vegetable-broth/ https://www.forkintheroad.co/carrot-top-chimichurri/ https://www.simplyrecipes.com/recipes/carrot_top_pesto/ https://www.forkintheroad.co/sauteed-carrot-greens/ https://www.healthbenefitstimes.com/health-benefits-of-carrot-greens/