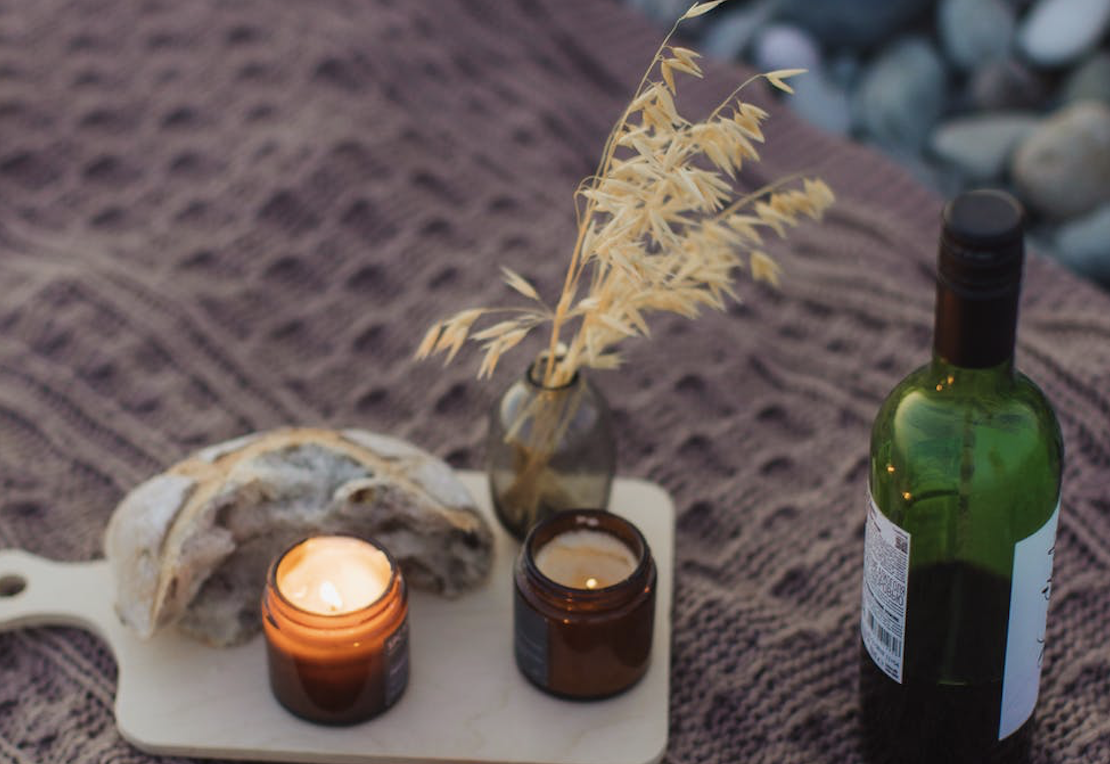 You may be thinking it's a litttle early for planning an at-home Valentine's day, but I think it's safe to say that with all the time in the world that many of us have right now, having something to look forward to can't be a terrible idea.
Whether you're celebrating with your SO, having a Zoom hangout with friends, or watching your favourite rom-com on your couch, give one of these three yummy ideas a try this Valentine's Day!
Strawberry Creme Truffles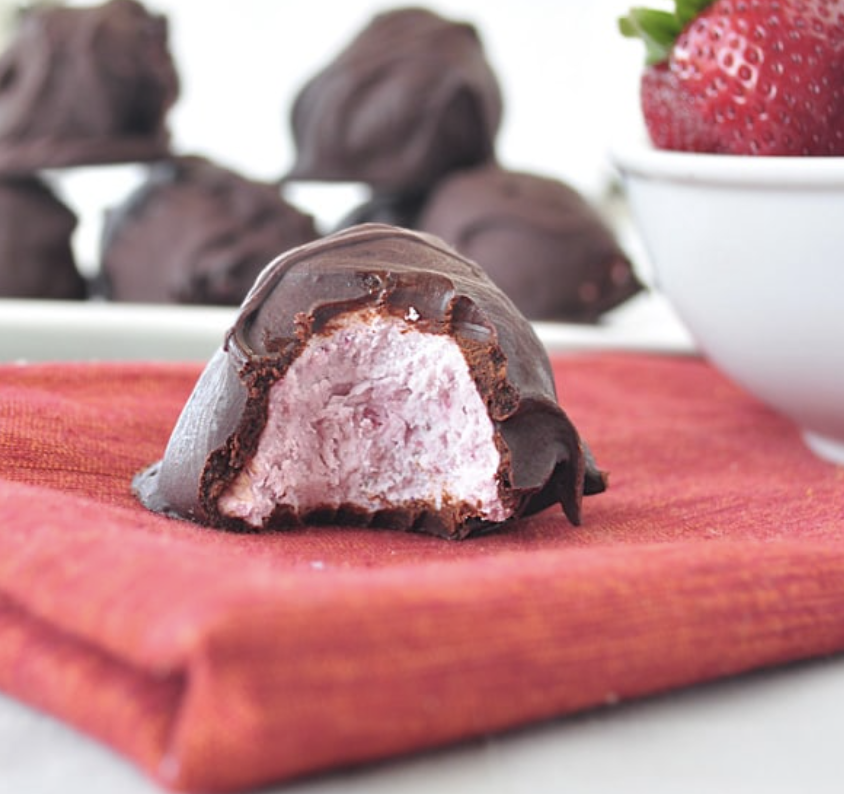 Ingredients
2 1/2 cups unsweetened full-fat shredded coconut
1 cup sliced strawberries
2 tablespoons maple syrup
1 cup dark chocolate chips
3 tablespoons almond milk or milk of choice
Instructions
In a food processor, blend up the shredded coconut, scraping the sides down every few minutes. Be prepared to be patient. It takes about 20 minutes. Then add the strawberries and maple syrup to the food processor and blend well.
Using a cookie scoop or a spoon, drop small balls of the filling onto a lined baking sheet. If the filling seems too soft, stick it in the fridge for 15 minutes first.
Stick the baking sheet with all the formed balls in the freezer to firm up. While the balls are firming up, melt the chocolate.
Using a double boiler method, melt the chocolate chips and the milk. Stir constantly until all the chips are melted and the mixture is smooth.
Working quickly, using two forks, roll the balls into the chocolate and place them back onto the lined baking sheet. Stick the finished balls back in the freezer to firm up. It should take about 30 to 60 minutes.
Soy Creme Brulee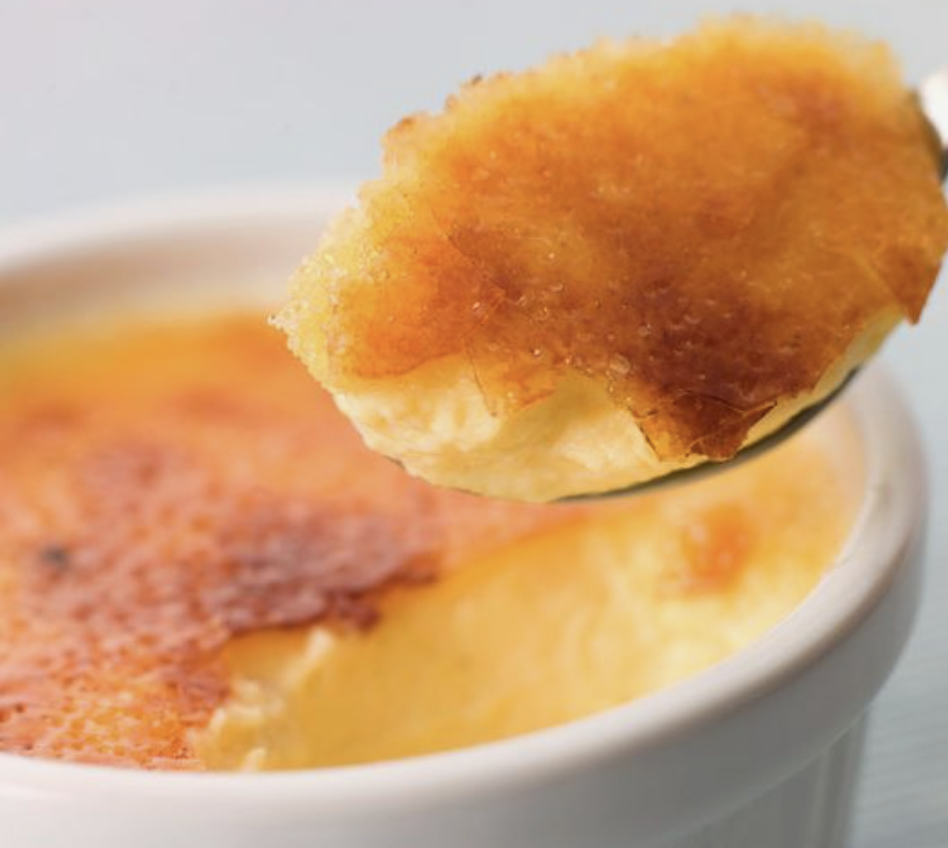 Ingredients
1 cup almond or soy milk
4 tablespoons + 2 teaspoons caster sugar
3 1/4 tablespoons corn starch
2 teaspoons vanilla extract
Instructions
To make the vanilla custard, add all ingredients, except the 2 extra teaspoons of caster sugar, to a blender and blend well. Make sure the milk is cold, which will ensure the mixture doesn't become lumpy.
Pour into a cold pan and turn on medium-high heat. Stir for 5 minutes until the mixture thickens. Spoon the creme into two ramekins and smooth them out to make flat surfaces. Let cool and set in the fridge for at least 2 hours.
Remove from fridge and add 1 teaspoon of caster sugar on top of each ramekin. Carefully use a kitchen blowtorch on the sugary tops until they caramelize.
Let them cool so the caramel topping firms up. These taste great served with fresh berries!
Vegan Raspberry Ripple Ice Cream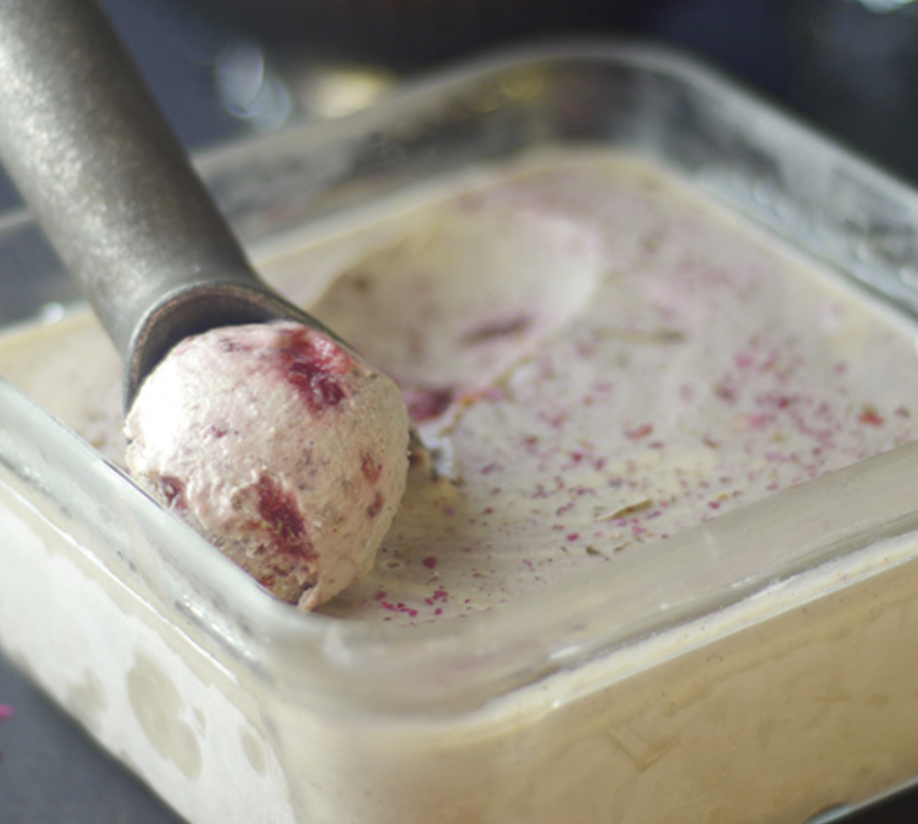 Ingredients
1 1/2 cups raw cashews, pre-soaked overnight and strained
2/3 cup coconut cream from chilled full fat coconut milk (put in the fridge the night before)
1/2 cup maple syrup
1 tsp salt
3/4 tsp raw ground vanilla bean or 1–2 tsp pure vanilla extract
235 ml raspberry jam
Instructions
Blend everything except the jam until completely smooth in a high-powered blender.
Transfer to a 5×5 glass dish (or a freezer-safe container of a similar size). Fold the raspberry jam into the container, a few spoonfuls at a time, and swirl into ripples (try not to over-blend so that you get to keep more of the ripples intact).
Freeze for 5-6 hours or overnight. Lightly thaw out to a scoopable consistency and enjoy!
Sources: https://mywholefoodlife.com/2014/03/24/strawberry-creme-truffles/ https://recipes.vegkit.com/vegan-creme-brulee