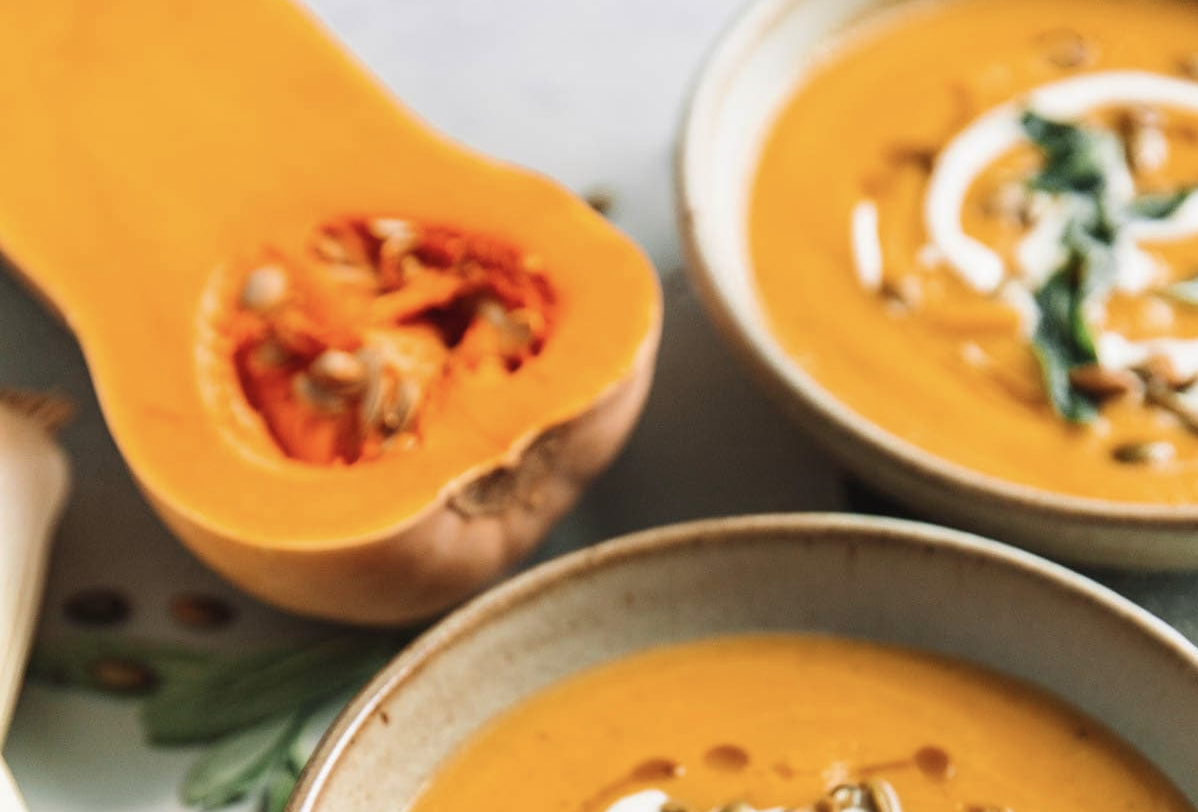 Soup is the perfect make-ahead food! Batch cooking a few servings of soup and freezing is a great way to have a healthy and delicious meal or appetizer ready in minutes by just taking the time to thaw and reheat.
Some soups freeze better than others; for soup with pasta or dairy, it is best to leave out these components until the thawing and reheating step. Pasta tends to turn into mush when reheated, and dairy can turn the reheated soup into a grainy, separated mess.
It's also important to remember that liquid expands when it freezes, so you'll want to avoid overfilling your container before leaving it in the freezer. On the other hand, leaving too much empty room in your container can cause freezer burn to develop faster. Your best bet is to leave around an inch of space between the soup and the lid to limit contact with air while still allowing room to expand.
So, we're a liiittle obsessed with squash. It is autumn after all, and at Fettle + Food we prefer to cook with fresh and wholesome ingredients. What's a better way to follow this philosophy than cooking with in-season veggies? Here are three delicious pureed soups using different types of squash. Let us know if you try any of them!
Butternut Squash Soup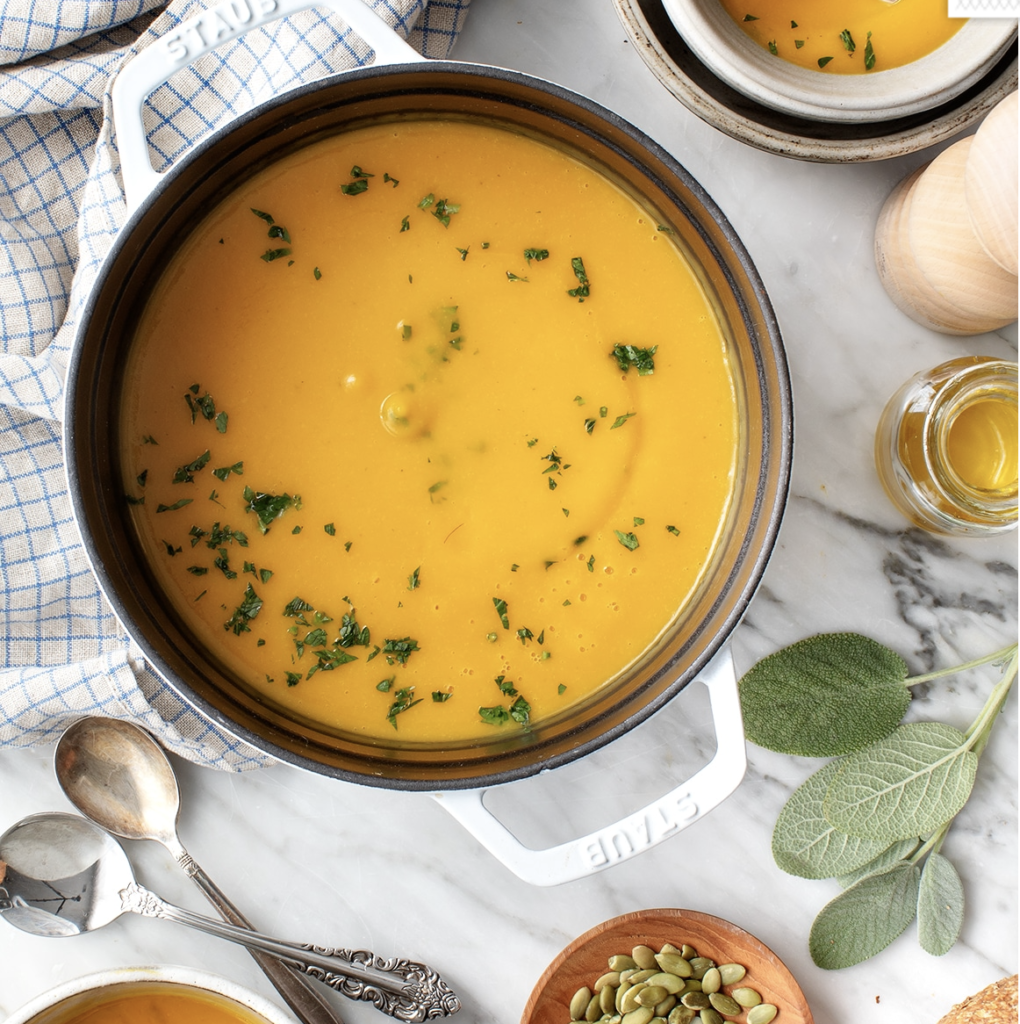 Ingredients
2 tablespoons extra-virgin olive oil
1 large yellow onion, chopped
1/2 teaspoon sea salt
1 (3-pound) butternut squash, peeled, seeded, and cubed
3 garlic cloves, chopped
1 tablespoon chopped fresh sage
1/2 tablespoon minced fresh rosemary
1 teaspoon grated fresh ginger
3 to 4 cups vegetable broth
Freshly ground black pepper
Instructions
Heat the oil in a large pot over medium heat. Add the onion, salt, and several grinds of fresh pepper and sauté until soft, 5 to 8 minutes. Add the squash and cook until it begins to soften, stirring occasionally, for 8 to 10 minutes.
Add the garlic, sage, rosemary, and ginger. Stir and cook 30 seconds to 1 minute, until fragrant, then add 3 cups of the broth. Bring to a boil, cover, and reduce heat to a simmer. Cook until the squash is tender, 20 to 30 minutes.
Let cool slightly and pour the soup into a blender, working in batches if necessary, and blend until smooth. If your soup is too thick, add up to 1 cup more broth and blend. Season to taste and serve with parsley and crusty bread.
Thai Coconut Pumpkin Soup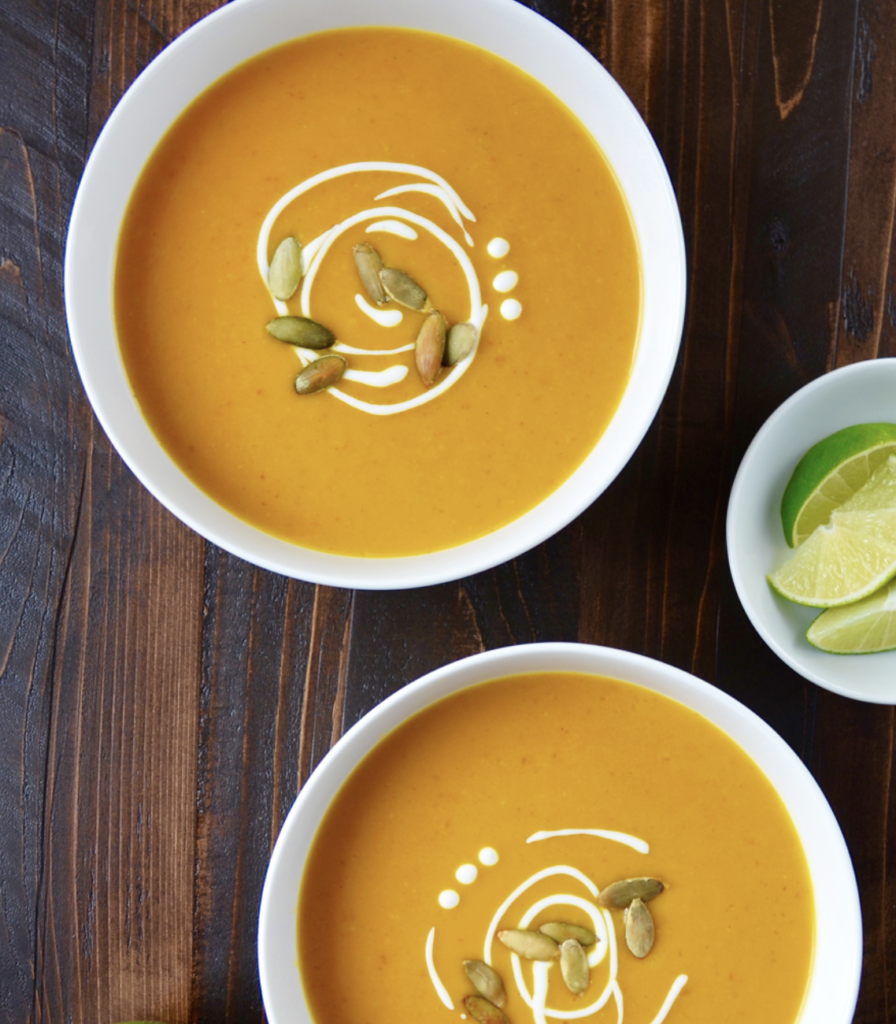 Ingredients
1 tablespoon unsalted butter or olive oil
1 medium onion, diced
4 cloves garlic, minced
1 teaspoon yellow curry powder
2 1/4 cups homemade pumpkin purée
2 1/2 cups chicken stock
1 (13.5-oz.) can of unsweetened coconut milk
Pumpkin seeds, for serving
Instructions
Add the butter to a medium sauté pan set over medium-low heat. Once the butter has melted, add the onions, garlic and curry powder and cook, stirring occasionally, until the onions are translucent. Transfer the mixture to a blender.
Add the pumpkin purée and chicken stock to the blender and blend until combined. Pour the soup into a large stock pot set over medium heat then whisk in the coconut milk. Cook the soup, stirring occasionally, until it is warmed throughout. Taste and season it with salt and pepper.
When ready to serve, divide the soup into bowls and garnish with sour cream and chopped pumpkin seeds.
Cream of Zucchini Soup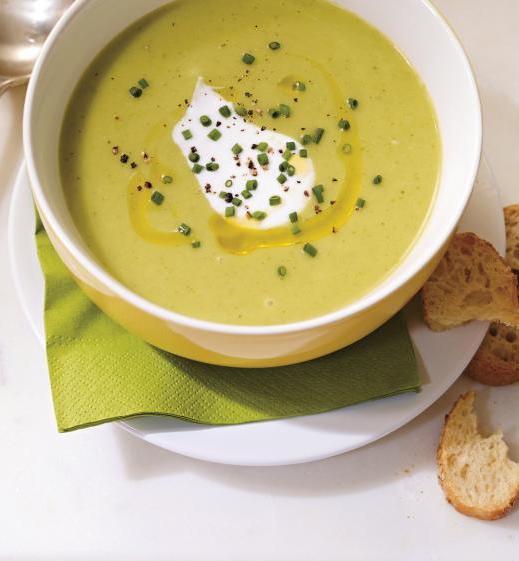 Ingredients
1 large green zucchini, diced (about 2 cups/310 g)
1 small potato, peeled and diced
1 shallot, chopped
1 small garlic clove, chopped
1 tbsp (15 ml) olive oil
2 cups (500 ml) chicken broth
Plain yogurt (optional)
Chopped fresh chives (optional)
Instructions
In a small pot, soften the zucchini, potato, shallot, and garlic in the oil. Season with salt and pepper. Add the broth and bring to a boil. Cover and let simmer for about 15 minutes or until the potato is tender.
In a blender, purée the soup until smooth. Adjust the seasoning. Garnish with yogurt, drizzle with olive oil and sprinkle with fresh chives if desired.
Sources: https://www.ricardocuisine.com/en/recipes/6653-cream-of-zucchini-soup/full https://www.loveandlemons.com/butternut-squash-soup/ https://www.justataste.com/thai-coconut-pumpkin-soup-recipe/ https://www.thekitchn.com/5-mistakes-to-avoid-when-freezing-soup-236658