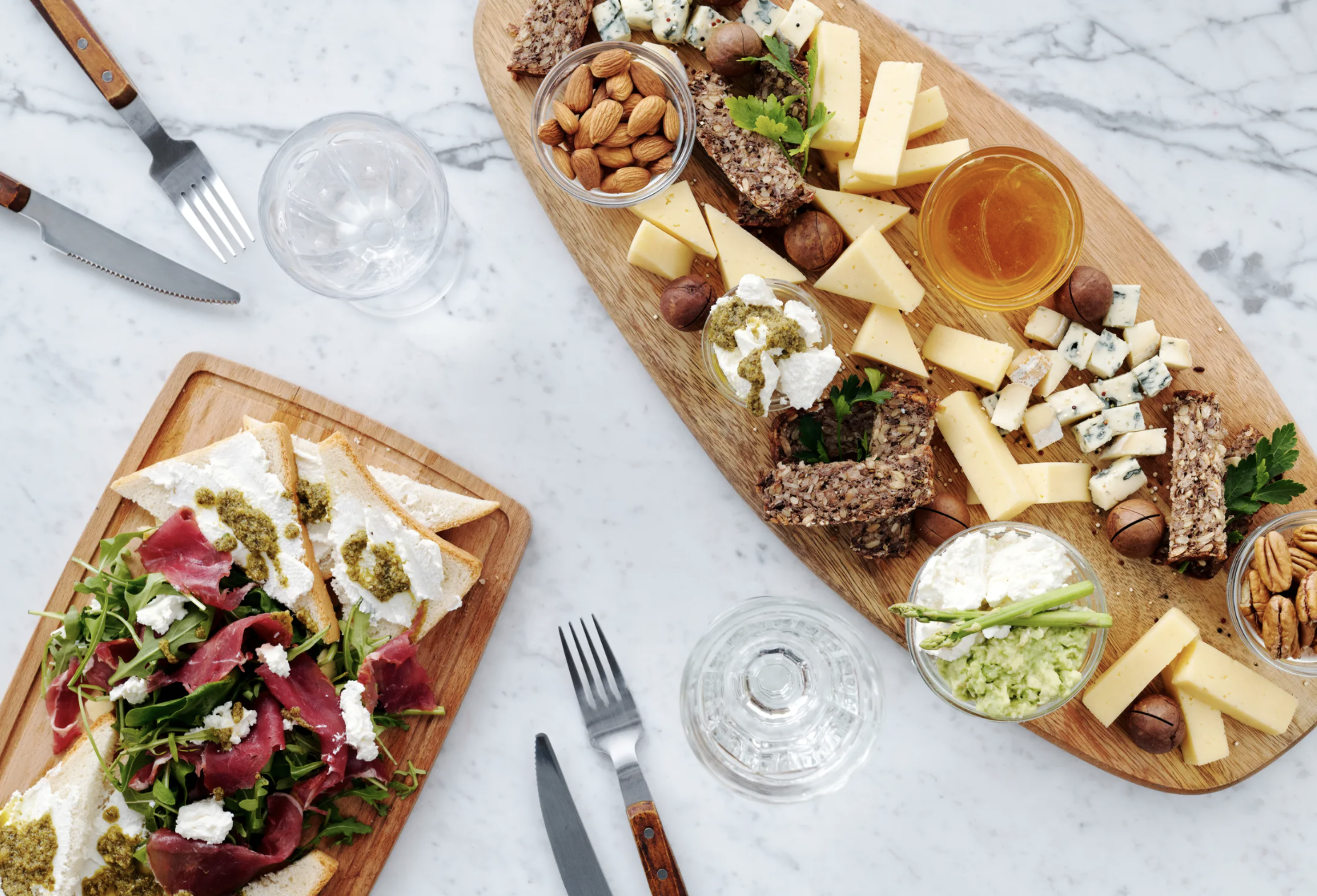 Who doesn't love to sit and watch the sunset while grazing on a meat and cheese board and sipping on a glass of wine? This is a classic summer evening activity that I would hate to skip! However, there are some clever ways to make a few healthier changes to the classic charcuterie board without sacrificing the experience entirely.
Meat
Cured meats are known for their high sodium content and chemical compounds that are harmful to your health if eaten in excess. So the key is to choose meats free of nitrates and those that are minimally processed, and to eat them in moderation. You can find nitrate free meats in most healthy supermarkets or check with local artisans in town!
A protein option that we like to include on our boards is hardboiled eggs. With a sprinkle of salt and freshly cracked pepper, they are a tasty and filling addition to any snack board.
Cheese
For those who are dairy free, a meat and cheese board may not sound like a suitable snack choice for obvious reasons. But luckily, there are a number of artisanal nut-based cheese alternatives on the market, even by "cheese" makers on the Island!
One brand that offers a delicious spread that reminds us of something of a Boursin-hummus hybrid, is Spread 'Em Fermented Cashew Cream-Cheese-Style Spread:  https://spreademkitchen.com/our-products/original-soft-cashew-spreads.
Here are some more spread suggestions that would pair perfectly with Mary's gluten free crackers or homemade sourdough discard crackers (recipe link below): hummus, homemade pesto or olive tapenade. Side note – with some patience and effort, these can all be made at home!
https://www.kingarthurflour.com/recipes/sourdough-crackers-recipe
Avocado
It may not be traditional, but we think avocados would suit summer themed meat and cheese boards particularly well. Mini avocado toasts on rye or sourdough with arugula, feta cheese, and balsamic vinegar sounds like a dream, no?
Fruit
Grapes and in-season berries are a must in our books. Dried fruits are classic too, of course. I am partial to dried dates and figs!
Nuts and more
As of late, I've been experimenting often with chickpeas, and I think that some crunchy and spicy baked chickpeas would go nicely in a charcuterie board. Nuts, too, are always a welcome addition for their crunch factor! Roasted almonds and macadamia nuts are some of my favourites as well.